About The Photographers
 Xavier and Patrice of XanZo Gallery were photographers before they met….  
That's how they met
.
Patrice graduated in 1997 with a Bachelor's of Fine Art Degree in Photojournalism and was interning at a fine art portrait studio in Edmond, Oklahoma. Xavier was working at Arlington Camera, one of the most well respected camera stores for professionals, in the region.  They met at the Texas School of Professional Photography where Xavier sold Patrice her first professional lighting kit..  and the rest, as they say, is history..
Patrice and Xavier began photographing together as soon as they started dating and have created a unique working style and partnership from the beginning.  Patrice has always been known for her photojournalism shooting style, with strong skills in traditional posing and watercolor portrait painting.  Xavier thinks outside of the box and will ask for the crazy, fun shots, and has the technical skill in lighting that makes their portraits stand out among others.
Xavier has over 20 years of photography experience both in photographing, selling, and inventing.  Today he is owner of XP PhotoGear, a national distribution company that distributes photographic lighting gear and accessories. He has patented one unique light modifier and has developed a unique brand of lighting tools for the photographic artist.  Patrice and Xavier work side by side at both XP PhotoGear, XanZo Gallery, and Photos On The Vine.  They opened Photos On The Vine this past November as a social way to connect with other photographers and teach classes from Basic Photography to Studio Lighting. They operate their indoor portrait studio within Photos On The Vine in Historic Handley, Fort Worth They have a passion for photography, lighting, and creating unique pieces of art that last a lifetime and they have evolved and grown to really connect with others on every level of the business.

.
A note from Patrice,
"We live in a world of photography. Between XP PhotoGear, XanZo Gallery, and Photos On The Vine, we are surrounded by what we love to do most, which is  taking photographs of people which last a lifetime. Ever since I received my first camera as a Senior in high school, I had a desire to document everything. I had a natural instict of how important photographs were to our family and I loved documenting my life as I lived it. Now that we have our own children, I am even more aware of the importance of our art. Yes, it is art. In this world of cell phone photography, we are still photographers who create art. We have been taught in the "old world" of photography about lighting, posing, technique that will make our images stand out from others. We love creating relationships with our clients, hearing your stories of what is important to you and your family and creating something unique just for you that will stand the test of time. We look forward to working with you and finding out how our photography can be a blessing to you and yours.."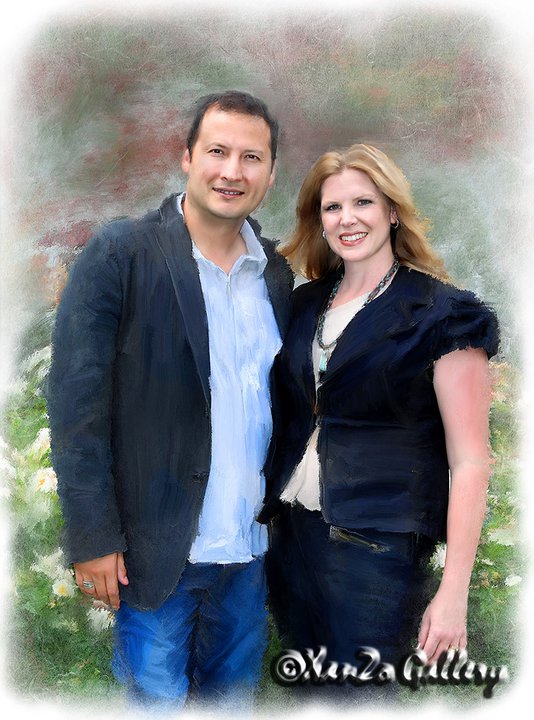 This image of us was taken in 2011, and is still one of my favorites!  We have been through a lot these past several years, so please forgive me for not updating our photograph. Ha! That's just one of the reasons I love photography. I have never really enjoyed being in front of the camera, but yet as I look back on photographs from years past I am so thankful for the memories we have made and captured on film. After going through cancer treatment in 2015-2016, I treasure every day and every photograph. These days my hair is short and super curly from regrowth and I've put on a few extra pounds. I know who I am today and am proud, and can't wait to see what tomorrow brings. We hope to be the photographer who grows with you from today into tomorrow.~    Patrice